Aln Aluminum Nitride Ceramic Crucible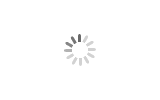 Aln Aluminum Nitride Ceramic Crucible
MASCERA

Xiamen, China

35-40 days

2000 pieces per month
Aluminum nitride ceramics can be used as containers for vacuum evaporation and metal smelting, especially suitable for vacuum evaporation crucibles for aluminum, because aluminum nitride ceramics are heated in a vacuum with low vapor pressure and will not pollute aluminum even if they are decomposed. In the semiconductor industry, using aluminum nitride crucibles instead of quartz crucibles to synthesize arsenide can completely eliminate the pollution of Si on GaAs and obtain high-purity products.

Any inquiry please email info@mascera-tec.com or call +86 13860446139
Aln Aluminum Nitride Ceramic Crucible
Product Information
Item No.

MSJ/ALN003
Material
aluminum nitride ceramic
Shape
ceramic crucible
Color
light grey
Size
customized

Density

≥3.3g/cm3

Thermal Conductivity

≥170w/mk

Surface roughness
fine grinding
MOQ
10 pcs per type
Application

industrial applications
Aluminum nitride ceramics (AlN ceramic) have excellent thermal conductivity (5-10 times that of alumina ceramics), low dielectric constant and dielectric loss, reliable insulation performance, excellent mechanical properties, non-toxic, high temperature resistance, and chemical corrosion resistance , and the coefficient of thermal expansion is similar to that of silicon, which is widely used in communication devices, high-brightness LEDs, power electronic devices and other industries.
Aluminum nitride ceramics can be used as containers for vacuum evaporation and metal smelting, especially suitable for vacuum evaporation crucibles for aluminum, because aluminum nitride ceramics are heated in a vacuum with low vapor pressure and will not pollute aluminum even if they are decomposed. In the semiconductor industry, using aluminum nitride crucibles instead of quartz crucibles to synthesize arsenide can completely eliminate the pollution of Si on GaAs and obtain high-purity products.
Mascera provides production for aluminum nitride crucibles according to required sizes and shapes, our strong in-door machining capability help us control the size in required accuracy. We service not only for bulk order with big quantity, but also small quantity for prototypes.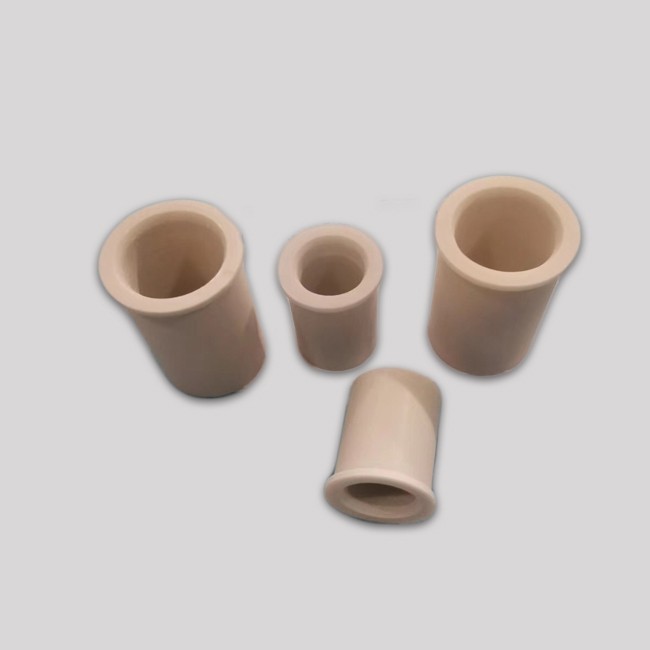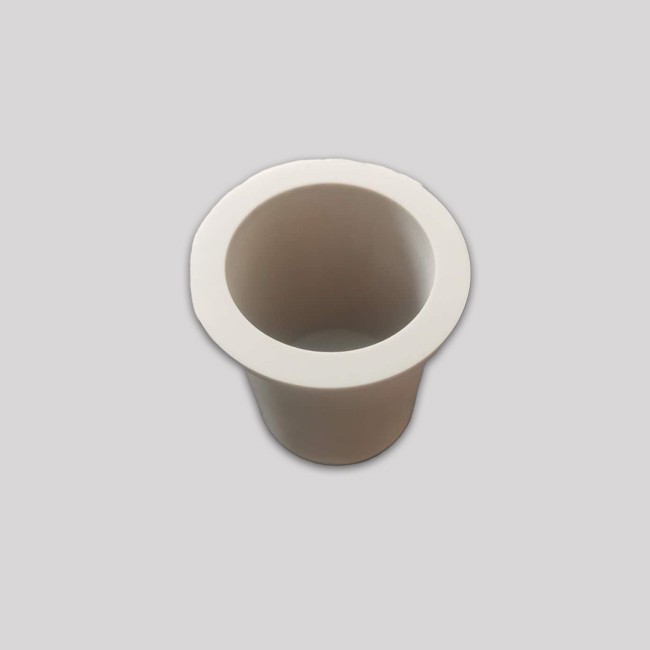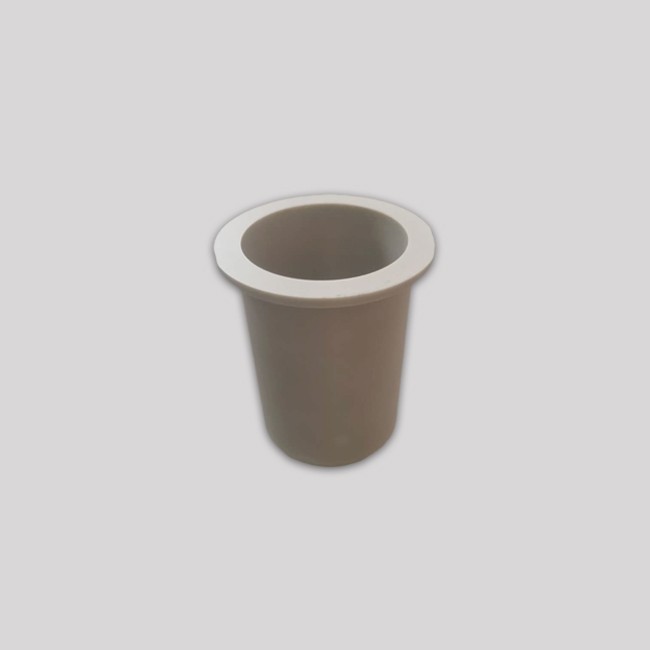 Main properties of aluminum nitride crucible
High mechanical strength and hardness

Good electrical insulation

Low dielectric constant and dielectric loss

Similar thermal expansion with Silicon

High thermal conductivity

Excellent corrosion resistance

Non-toxic
Typical applications of aluminum nitride ceramic
1. Optical communication device application
2. Special refrigerator
3. LED industry
4. Automotive electronic modules
5. High efficiency power module
6. High frequency microwave application
7. Power electronic components
Material Data Sheet
ITEMS
UNIT
PARAMETER
Al2O3 Purity

%
95
Color
‐
Light Grey
Density
g/cm3
≥3.3
Water Absorption
%
0
Moh's Hardness
‐
8
Flexural Strength(at 25℃)
Mpa

365-420
Compressive Strength(at 25℃)
Mpa
310-320
Thermal Conductivity
W/m.k
≥170
Coefficient of Thermal

Expansion(20~300℃)

10‐6/℃
4.6
Max working temperature
℃
1800

Volume Resistivity
Ω.cm
1013
Dielectric Constant(1MHz, 25℃)
‐
9

Dielectric Loss(1MHz, 25℃)
‐
3.8 X 10-4
Dielectric Strength
KV/mm
17

Packing & Shipment
Package type
carton box with foam protection
Payment terms

TT / Western Union / Paypal

50% payment in advanced and 50% before shipment

Loading port
Xiamen, China
Shipping way
By sea / air / door-to-door express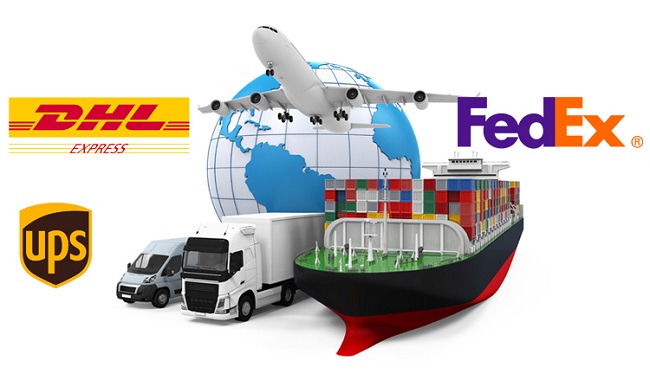 Company Introducton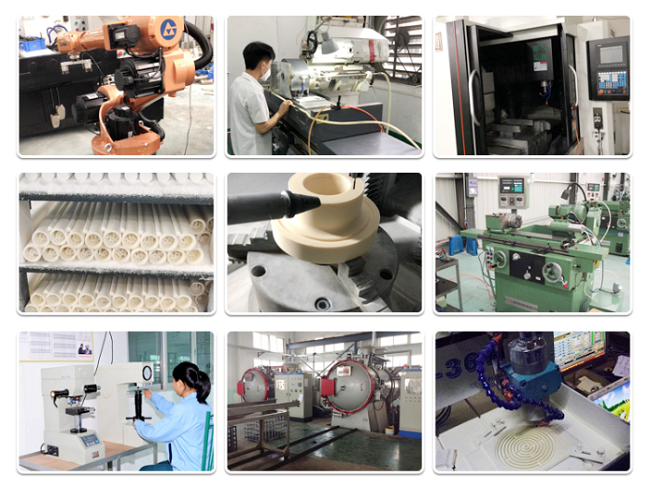 XIAMEN MASCERA TECHNOLOGY CO., LTD. is a China supplier which specialized in custom manufacturing of technical ceramic components. We provide a broad range of high performance ceramic materials including alumina ceramic, zirconia ceramic, silicon nitride ceramic, silicon carbide ceramic, boron nitride ceramic and aluminum nitride ceramic.
We have completed production lines for molding, sintering, high precision machining, quality inspection of technical ceramic components. Our products are in conformity with ISO9001:2015 quality management system and we are capable to deliver ceramic components of fully dense, accurate size and surface finish control, prompt lead time.
Since our foundation, Mascera has committed to providing ceramic components of highest quality and has built faithful partnership with our customers. Currently, our products have been exported to 40 countries and widely applied in industries like machinery, automotive, chemistry, medical, energy, electronic, semiconductor, aerospace, telecommunication etc.
With expertise of material properties and machining technique, Mascera is able to give our customers the most valuable solutions for their specific applications and cooperate from prototype development to mass production. It is our honor that our technical ceramics components are used by some research institutes and high-tech enterprises, and make small contribution for technology innovation.