Snap Off Utility Knife Ceramic Replacement Blades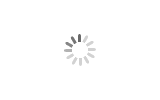 Snap Off Utility Knife Ceramic Replacement Blades
MASCERA

Xiamen, China

35 days after order

50k pieces per month
Mascera is a professional supplier for technical ceramic parts, we provide custom manufacturing for alumina ceramics, zirconia ceramics, boron nitride ceramics, silicon nitride ceramics, silicon carbide ceramics, aluminum nitride ceramics and machinable glass ceramics.

We produce varioous kinds of ceramic blades for utility knives or cutting machines. The ceramics blades are made of zirconia ceramic which has very high hardness and outstanding wear resistance, utting edge will remain much longer than steel blades. Custom size and design are also available to produce.

Any inquiry please email info@mascera-tec.com or call +86 13860446139
Snap Off Utility Knife Ceramic Replacement Blades
Product Information
Item No.

MSJ/CCB-001
Material
zirconia ceramic
Color
white
Size
103*18*t0.6mm, 80*9*t0.4/0.5mm
Customized manufacturing
available
LOGO printing
available
MOQ
100 pcs per type
Application

replacement blades for utility knives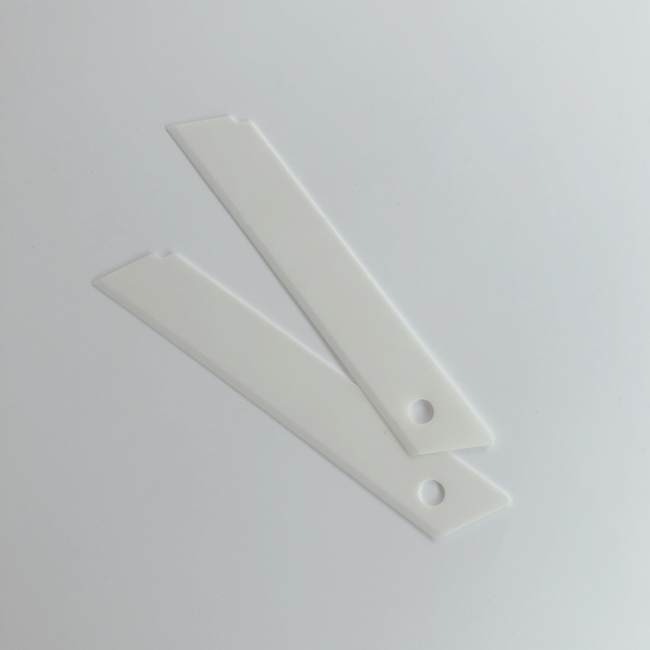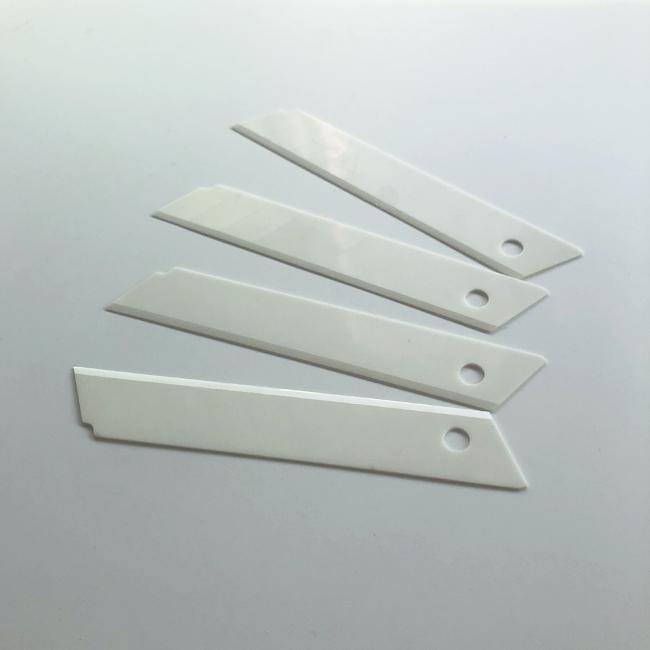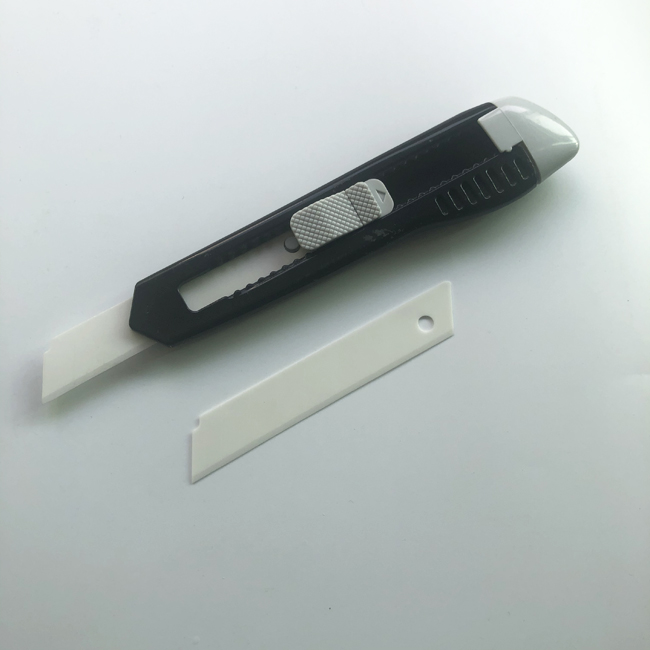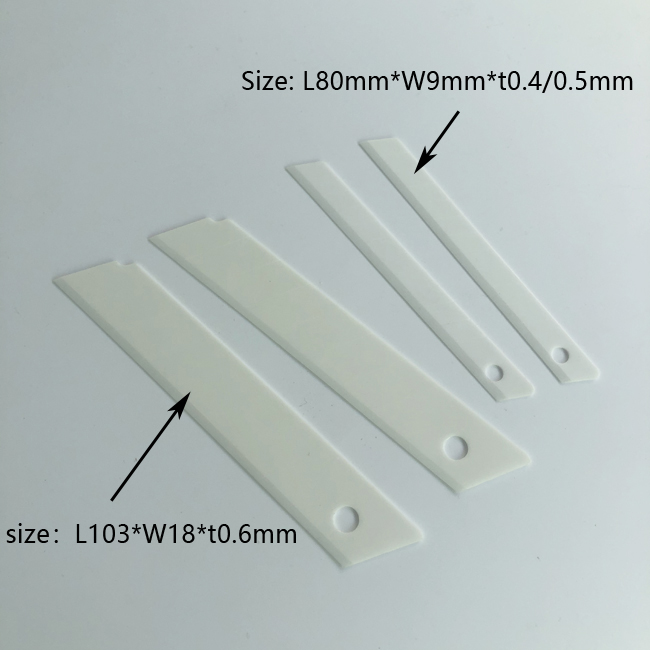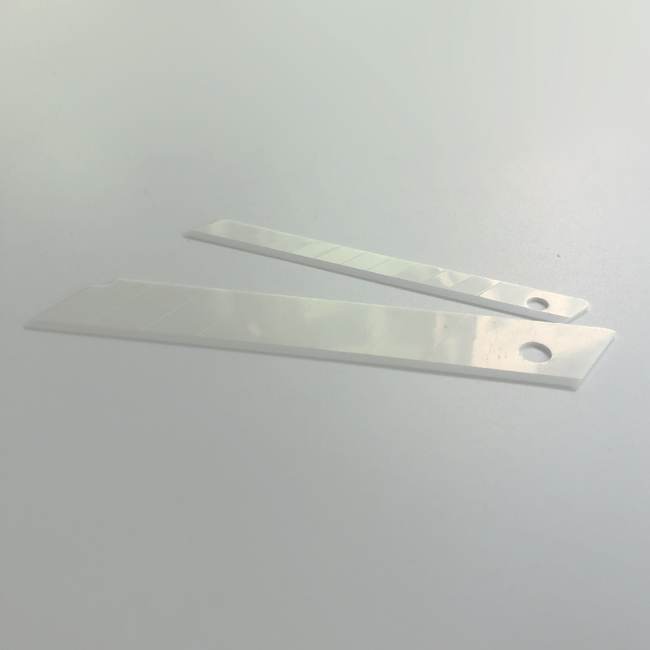 Ceramic blades made of zirconia ceramic have very high hardness and good wear resistance, corrosion resistance, it will never rust like metal blades, the sharp cutting edge will keep very long time, it will reduce the replacement frequency and improve efficiency of cutting works. Therefore, zirconia ceramic has wider and wider application for ceramic utility blades or ceramic replacement blades of cutting tools. It shows excellent performance in cutting paper, carboard, fiber, aluminum foil , plastic film, adhesive tap, rubber, cloth, rubber etc.
Our snap off ceramic blades are replacement blades for common snap off utility knives, there are two sizes of blades, big one (width 18mm) is for big snap off utility knives, small one (width 9mm) is for small snap off utility knives. There are snap off lines on the bodies of ceramic blades, when the tips are broken or worn, you could break off it and continue to use.
Mascera provides custom manufacturing for zirconia ceramic blades in your required sizes or thickness, the thinnest ceramic blades we have made is 0.2mm, the angle of cutting edge can also be machined as per your requirement. To provide a short lead time and fast delivery, we always make stocks for some standard ceramic blades, welcome to contact us when you have interest in our ceramic blades.
Ceramic blades we are providing:
Ceramic blades for snap off utility knives

Surgical ceramic blade

Ceramic blade for capsule trimming

Ceramic blade for cloth cutting

Ceramic blade for carpet cutting

Ceramic blade for plastic film slitting

Deburring ceramic blade
Comparing to traditional metal cutting blades, ceramic blades have several advantages:
Sharpness of cutting edge will remain 60 times longer than steel blades

Never rust like metal blades

Non-magnetic and non-electrostatic

Good corrosion resistance to acids and alkali

Good electrical insulation

High temperature resistance
Material Data Sheet
| Items | Unit | Value |
| --- | --- | --- |
| Materiral | -- | zirconia ceramic |
| Color | -- | white |
| Density | g/cm3 | 5.95-6.05 |
| HRA Hardness | -- | >87 |
| Fracture Toughness | Mpa.m1/2 | 7 |
| Flexural Strength (@R.T.) | Mpa | 900 |
| Compressive Strength (@R.T.) | Mpa | 2200 |
| Thermal Conductivity (@R.T.) | W/m.k | 2.2 |
| Coefficient of Thermal Expansion (20-1000℃) | 10-6/℃ | 10.3 |
| Thermal Shock Resistance | △T(℃) | 280-350 |
| Max. Working Temperature (@R.T.) | ℃ | 850 |
| Volume Resistivity (@R.T.) | Ω.cm | 1012 |
| Dielectric Constant (1MHz, @R.T.) | -- | 26 |
Instruction for Using Snap Off Ceramic Blades
1. Make sure the ceramic blade is installed in knife holder properly, never hold the ceramic blade to cut without a knife holder.
2. Don't face the cutting edge toward people and take away fingers or hands from cutting direction when cutting work.
3. Never release the ceramic blade too long from knife holder when cutting, it is easy to break when the length is too long.
4. Never use ceramic blade to cut unsuitable material to avoid hurt of unexpected break.
5. Keep your mind focus in the cutting work to avoid unexpected hurt.
6. The ceramic blade should be retracted inside the holder completely after cutting work.
7. Wear gloves and use proper tools to break the blunt segment when cutting edge is no longer sharp, never break the blade with bare-hand and take attention to unexpected hurt by fragment spatter.
8. Never put the knife in your clothes pocket to avoid unexpected hurt.
9. The waste knife blade should be packed well before discard.
Packing & Shipment
Package type
carton box with foam protection
Payment terms

TT / Western Union / Paypal

50% payment in advanced and 50% before shipment

Loading port
Xiamen, China
Shipping way
By sea / air / door-to-door express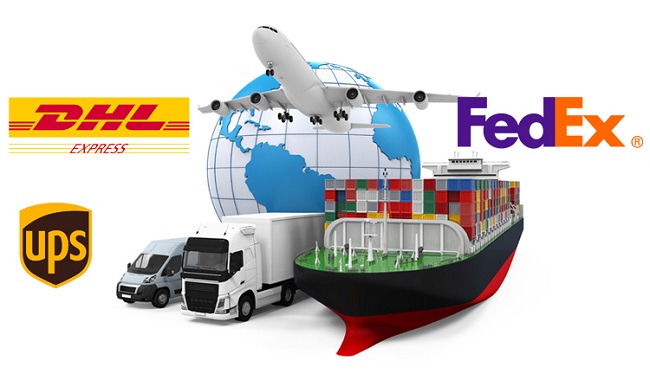 Why Choose Us
10+ years experience in technical ceramics manufacturing and R&D

ISO9001:2015 certificated quality control management system

Different types of ceramic materials are provided for your different applications

Products have been exported to 40+ countries and have good reputation from our customers

MOQ is low, both prototype and bulk order will keep high quality

Any of your inquiries or questions will be responded no longer than 24 hours

Rigorous production plan to ensure on-time delivery