To247 To220 Al2O3 Alumina Ceramic Wafer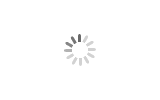 To247 To220 Al2O3 Alumina Ceramic Wafer
MASCERA

Xiamen, China

7-30 days according to stock status

500k pieces per month
Mascera is a professional supplier for technical ceramic parts, we provide custom manufacturing for alumina ceramics, zirconia ceramics, boron nitride ceramics, silicon nitride ceramics, silicon carbide ceramics, aluminum nitride ceramics and machinable glass ceramics.

One of our hot selling products is ceramic substrate for electronic package applications. The materials of ceramic substrates we can produce are 96% alumina ceramic and aluminum nitride ceramic. Both have good electrical insulation, good mechanical strength and high heat resistance. Product size could be customized accroding to your request, delivery date could be within 7 days at the fastest.

Any inquiry please email info@mascera-tec.com or call +86 13860446139
To247 To220 Al2O3 Alumina Ceramic Wafer
Product Information
Item No.

MSJ/CS-005
Material
96% alumina ceramic
Color
white
Size
customized
Thickness

0.25mm, 0.385mm, 0.5mm, 0.635mm, 0.8mm, 1.0mm, 2mm, 3mm , 4mm or customized size

Surface roughness
Ra0.3-0.7μm as standard
MOQ
100 pcs per type
Application

ceramic insualtor washers for electronic packing of diodes, triodes, MOS tubes and small-scale ICs (

TO220, TO3P, TO264, TO247)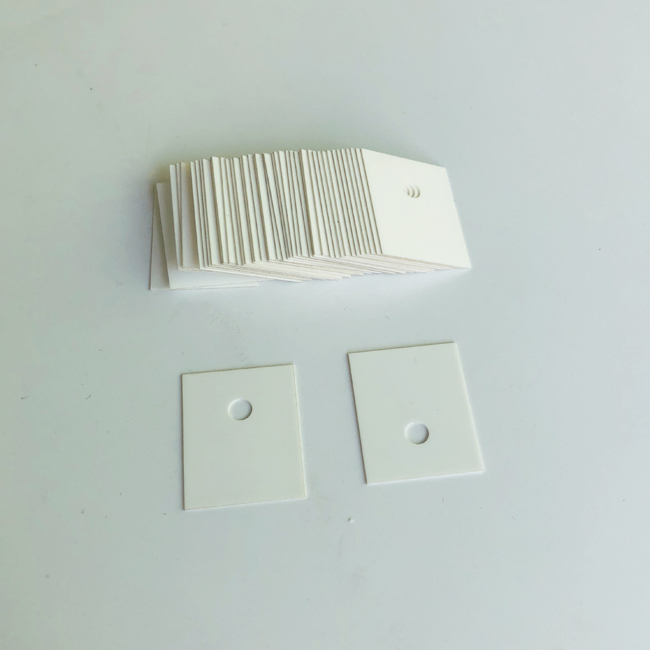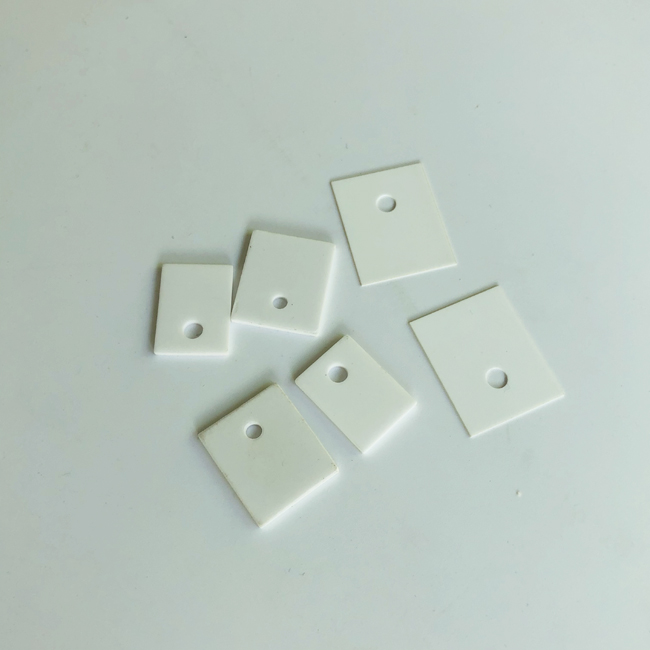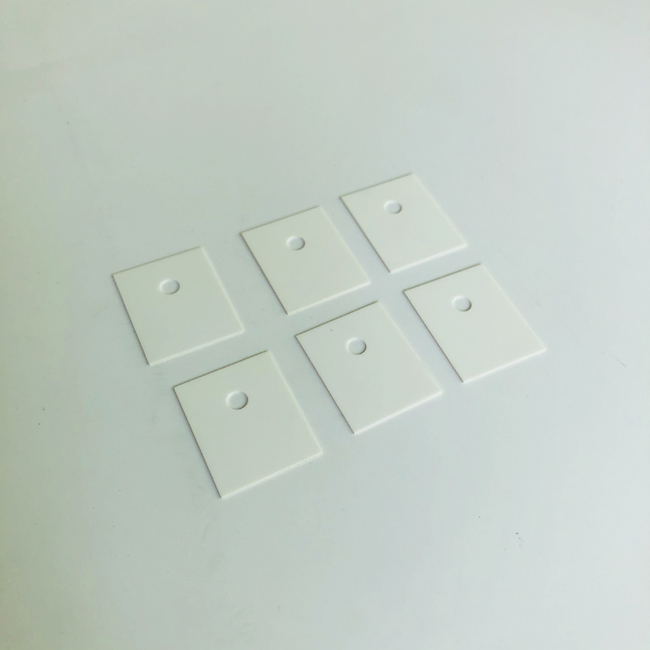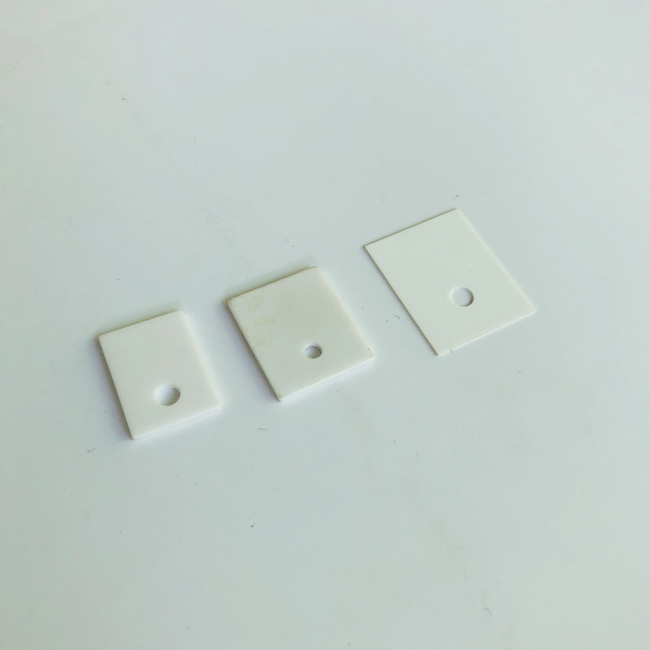 Ceramic wafers made of alumina ceramic have excellent properties of low weight, good electrical insulation, low dielectric loss, good thermal conductivity and high heat resistance etc, it is an ideal material for electrical insulation and heat dissipation purpose in electronic industries. Alumina ceramic wafers have been developped for electronic package of high-power diodes, triodes, MOS tubes and small-scale ICs (TO220, TO3P, TO264, TO247). The thickness of alumina ceramic wafers could be 0.25mm, 0.385mm, 0.5mm, 0.635mm, 0.8mm, 1.0mm, 2mm, 3mm , 4mm or customized size. The flatness and surface roughness are good, the product size and material properties are stable. Mascera will adopt corresponding production technologies according to customers' different requirement for dimensions or quality. We are capable to provide alumina ceramic wafers in short time for big quantities to meet customers' using demands.
Advantages of Alumina Ceramic Wafers
1. The ceramic wafer itself does not store heat, directly dissipates heat, and is fast, reducing the influence of the insulating layer on the thermal efficiency;
2. Ceramic polycrystalline structure enhances heat dissipation. Under the same conditions, surpass most of the thermal insulation materials on the market;
3. The feature of multi-directional heat dissipation to speed up heat dissipation;
4. Electrical insulation, high thermal conductivity, high voltage resistance, high temperature resistance, abrasion resistance, high strength, oxidation resistance, acid and alkali resistance, and long service life;
5. Effective anti-interference (EMI) and anti-static;
6. Natural organic materials meet environmental protection requirements;
7. Small size, light weight, high strength and space saving;
8. Alumina ceramic wafer is suitable for IC, MOS, triode, IGBT and other surface heat sources that require heat dissipation;
9. It is especially suitable for high-power equipment, and the design space is light, thin, short and small.
96 Alumina Ceramic Property Data
ITEM
UNIT
PARAMETER
Al2O3 Purity

%
96
Color
‐
White
Density
g/cm3
≥3.72
Warpage
---

≤3‰*Length
Water Absorption
%
0
Moh's Hardness
‐
9
Fracture Toughness
Mpa.m1/2
3‐4
Flexural Strength(at 25℃)
Mpa

≥350
Thermal Conductivity
W/m.k
≥24
Coefficient of Thermal

Expansion(20~300℃)

10‐6/℃
8

Max working temperature
℃
1650

Dielectric Constant(1MHz, 25℃)
‐
9~10

Dielectric Loss(1MHz, 25℃)
‐
0.0003
Dielectric Strength
KV/mm
17

Volume resistivity
Ω.cm
1014
Typical Application of Alumina Ceramic Wafer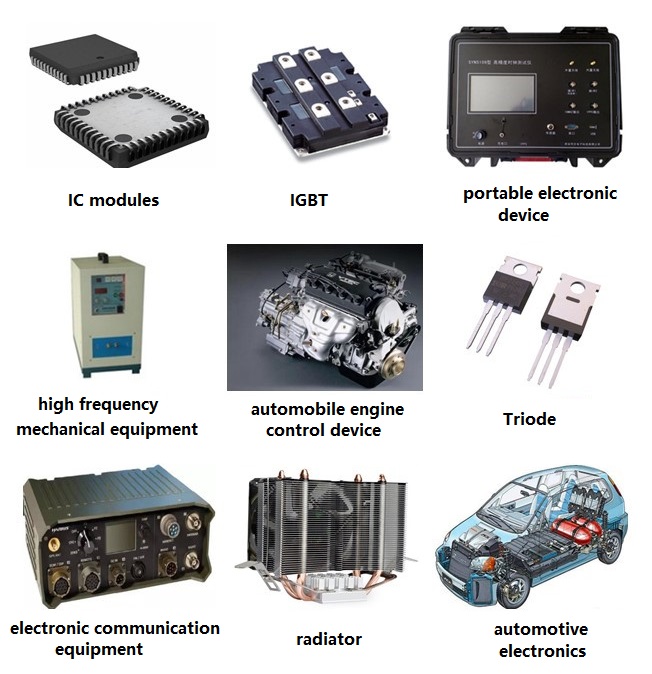 Alumina ceramic wafers are widely applied for IC modules, IGBT, MOS, triode, portable electronic devices, high frequency mechanical equipment, electronic communication equipment, radiator, automobile engine control device and automotibe electronics etc.
Packing & Shipment

Package type
carton box with foam protection
Payment terms

TT / Western Union / Paypal

50% payment in advanced and 50% before shipment

Loading port
Xiamen, China
Shipping way
By sea / air / door-to-door express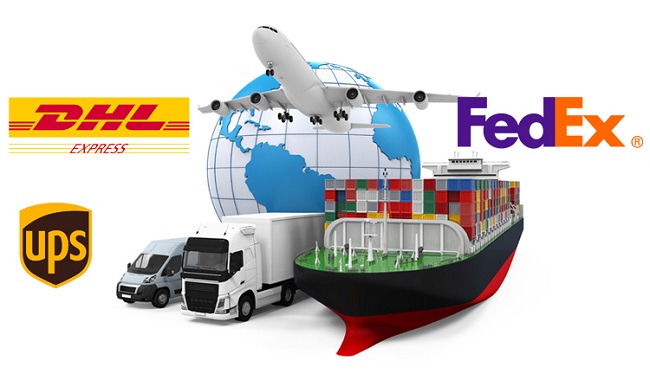 Why Choose Us
10+ years experience in technical ceramics manufacturing and R&D

ISO9001:2015 certificated quality control management system

Different types of ceramic materials are provided for your different applications

Products have been exported to 40+ countries and have good reputation from our customers

MOQ is low, both prototype and bulk order will keep high quality

Any of your inquiries or questions will be responded no longer than 24 hours

Rigorous production plan to ensure on-time delivery